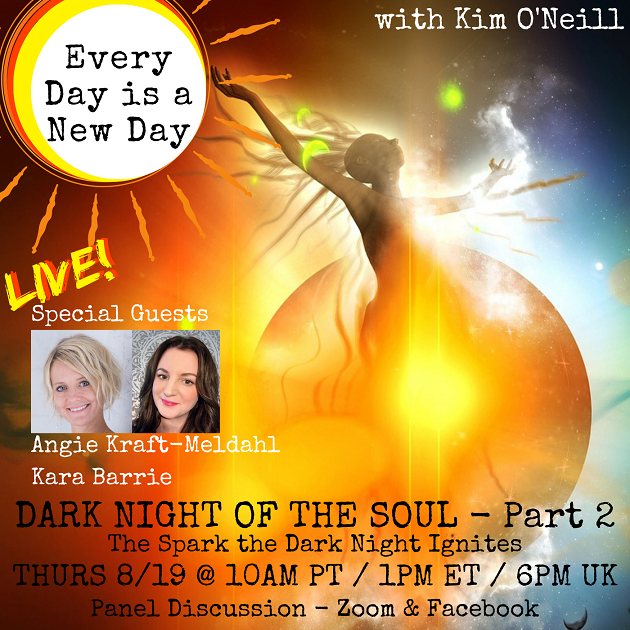 👥 PANEL DISCUSSION: Dark Night of the Soul (Pt 2) - The Spark the Dark Ignites w/ Guests Angie Kraft-Meldahl & Kara Barrie
After our first discussion on this subject, my guests and I knew there was more to be said! Join us for an inspirational follow-up discussion on experiences and perspectives about the spark the dark night ignites! Rebirth, positive transformation and more - oh my!
If you missed part 1, you can catch the replay wherever you listen to podcasts, and/or on FB or YouTube.
GUESTS:
🟣 Angie Kraft-Meldahl is a Certified Intuitive Life Coach, Certified QSCA Law of Attraction Coach, Akashic Records Teacher/Guide and Life Purpose Hand Analyst.
🔵 Kara Barrie is a channeler and spiritual hand-holder, also known as The Dolphin Messenger, bringing through messages of love, peace and unity. Kara is also co-founder of Freedom with Frequencies.
🌟 Join us Thursday, 8/19 @ 10am PT / 1pm ET / 6pm UK
💫 Live on Facebook & YouTube
*** Are you ready to shine YOUR authentic light? Join the Let Your Light Shine Movement today! It's free and easy. https://bit.ly/LetYourLightShineMovement
*** Connect with Kim at https://www.kimoneillcoaching.com/​ to book a free confidence or interview coaching consultation.
#DarkNightoftheSoul #TheSpark #LifePurpose #EveryDayisaNewDay #LetYourLightShine #RiseandShine #empowerment #movingforward #spiritualjourney #lightworker #spiritualseeker #purposedriven #heartcentered #podcast #inspiration #inspirationalshow #confidencecoach #KimONeill #LIVE #empowermentcoach #interviewcoach