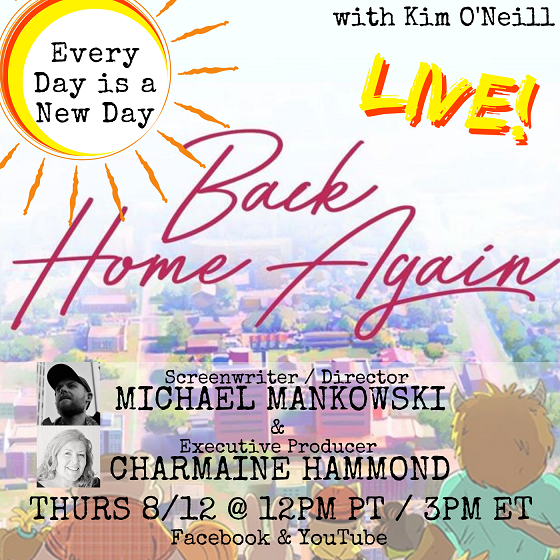 BACK HOME AGAIN is an animated short film with an all-star voice cast based on real life events of the 2016 wildfire evacuation of 80,000 residents in Fort McMurray, Alberta Canada that aims to build mental health awareness and spark conversation in communities across Canada and the world. Screenwriter / Director Michael Mankowski and Executive Producer Charmaine Hammond will share with us what this film is about; when it will be released; how it is a conversation-starter about mental health awareness, and more.
This film was brought to life by the Canadian Red Cross, the Canadian Mental Health Association, and Fort McMurray Wood Buffalo Economic Development & Tourism.
GUESTS:
MICHAEL MANKOWSKI was born and raised in Fort McMurray, Alberta Canada, and is Owner and operator of Alien Kow (formerly known as Wood Buffalo Productions, an Alberta, Canada-based award-winning production house). Michael is a graduate of University of Lethbridge Bachelor of Management and Vancouver Film School 3D & Animation Program. He is a 2017 recipient of the Excellence in the Arts award by the RMWB and Arts Council Wood Buffalo; and in 2016 his company won a Leadership Award by RMWB and YYM Magazine. Michael has also produced passion projects; premiered at the Toronto International Film Festival; and was the winner of the Best Short Film award at the Alberta Film and Television Awards in 2016.
CHARMAINE HAMMOND, CSP (Certified Speaking Professional) worked closely with Michael Mankowski almost since the beginning of this project. Responsible for heading up the collaborations, partnerships and sponsorship for the project, she is passionate about this film because Fort McMurray was her home for 15 years. She didn't live there at the time of the fires, however she returned on contacts with the social profit organizations and school boards to work with the community on the recovery and resilience initiatives. Charmaine is also a highly sought-after business keynote and workshop speaker, entrepreneur, author and educator who teaches and advocates the importance of collaboration, mental health, and healthy relationships. She has helped clients in many industries build resilient and engaged workplaces; develop high trust/high accountability relationships; and solve workplace issues and conflict that gets in the way of success and profitability.
Join us Thursday, 8/12 @ 12pm PT / 3pm ET
Live on Facebook & YouTube
Subscribe to the channel for:
* Mondays @ 9am PT - Inspirational Message Mondays
* Thursdays @ 12pm PT - Guest Interviews
*** Are you ready to shine YOUR authentic light?
Join the Let Your Light Shine Movement today! It's free and easy.