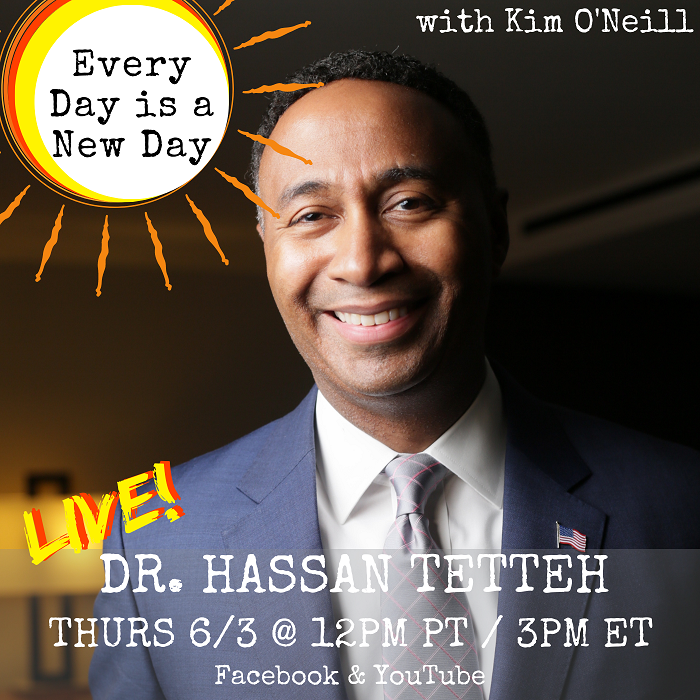 Dr. Hassan Tetteh is the author of the Art of Human Care book trilogy. He appeared on the Every Day is a New Day show in fall 2020 with his first book, The Art of Human Care where he shares his inspiring experiences as a patient that was saved and a physician who now saves lives. Today he is going to talk to us about what led him to write the additional 2 books, including The Art of Human Care for COVID-19.
MORE INFO: Dr. Tetteh is a US Navy Captain and Associate Professor of Surgery at the Uniformed Services University of the Health Sciences and adjunct faculty at Howard University College of Medicine. He is a National Academy of Medicine Emerging Leader in Health and Medicine and a Thoracic Surgeon for MedStar Health and Walter Reed National Military Medical Center. He leads a Specialized Thoracic Adapted Recovery (STAR) Team, in Washington, DC, and his research in thoracic transplantation aims to expand heart and lung recovery and save lives.
Dr. Tetteh also has 3 Master's degrees; a TedX speaker; was named a TEDMED Front Line Scholar; and received the Alley Sheridan Award by the Thoracic Surgery Foundation for Research and Education; and is also a husband and father.
🌟 Join us Thursday, 6/3 @ 12pm PT
💫 Live on Facebook & YouTube Join us LIVE for more fun, insights and inspiration!
Subscribe to the channel for:
* Mondays @ 9am PT - Inspirational Message Mondays
* Thursdays @ 12pm PT - Guest Interviews
*** Are you ready to shine YOUR authentic light? Join the Let Your Light Shine Movement today! It's free and easy. https://bit.ly/LetYourLightShineMovement
Connect with Kim at https://www.kimoneillcoaching.com/​ to learn more about the show and/or book a free "coffee chat" coaching consultation.
#DoctorTetteh #HassanTetteh #TheArtofHumanCare #Purpose #Personalization #EveryDayisaNewDay #LetYourLightShine #RiseandShine #empowerment #movingforward #spiritualjourney #lightworker #spiritualseeker #purposedriven #heartcentered #podcast #inspiration #inspirationalshow #confidencecoach #KimONeill #LIVE #spiritualcoach